IBS-Friendly Traditional Dominican Shepherd's Pie
Last updated: February 2022
My family is from the Dominican Republic and I grew up eating plantains either for breakfast, lunch or dinner, and would never get tired of it. There are a lot of health benefits to eating plantains, and the great thing about them is that they're gluten-free! I know a lot of us IBS sufferers are sensitive to gluten, so I figured why not share this recipe that some of you might appreciate! Here's a traditional Dominican recipe that I learned from my mother growing up with a few slight adjustments to make it IBS-friendly: Pastelón de Plátano Maduro (or the Dominican version of Baked Shepherd's Pie). Hope you enjoy!
Servings: 5
Ingredients for Dominican shepherd's pie layers and topping:
9 yellow plantains
¼ cup of almond milk
2 tbsp. of butter
½ tsp. of salt
½ of a cup of shredded cheddar cheese
½ of a cup of shredded parmesan cheese
Ingredients for the Dominican shepherd's pie meat stuffing:
1½ lbs. of ground turkey
1 tbsp. of vegetable oil
3 tbsp. of tomato paste
¼ cup of beef stock
Garlic powder (to taste)
Onion powder (to taste)
Salt (to taste)
Pepper (to taste)
Chili powder (to taste)
¼ cup of fresh chopped Cilantro
½ of a green bell pepper chopped
½ of a red bell pepper chopped
Directions for Dominican shepherd's pie:
Preheat oven to 400oF.
Peel and cut the plantains into halves, then place them in a large pot, and cover with water and a pinch of salt.
Cover the pot with a lid with a slight opening for easy steam release, and bring to a boil. Make sure to add about a cup of water when foam starts to build up, and then lower the temperature to medium heat at that point.
Once the plantains are dark yellow and tender, turn off the heat and drain the water.

Combine the milk, butter, and plantains by mashing all of it together, then set aside.
Add oil to a large skillet on medium heat and cook the ground turkey. As it browns, add your seasonings to taste. Make sure the meat does not dry out by adding a little water if needed.
Once fully browned, add the peppers, cilantro, tomato paste, and beef stock and let it cook for another 10 minutes.
Take a baking dish and spray with non-stick coconut oil. Spread half of the plantain mixture at the bottom of the dish, then add meat mixture on top while also sprinkled with shredded cheddar cheese.
Spread the remaining mashed plantain and then top with more cheese.

Bake at 400oF for 15 minutes. After that, broil on high for 5 minutes.
Once done, take out of the oven and let it set for about 5-10 minutes.
Serve and enjoy!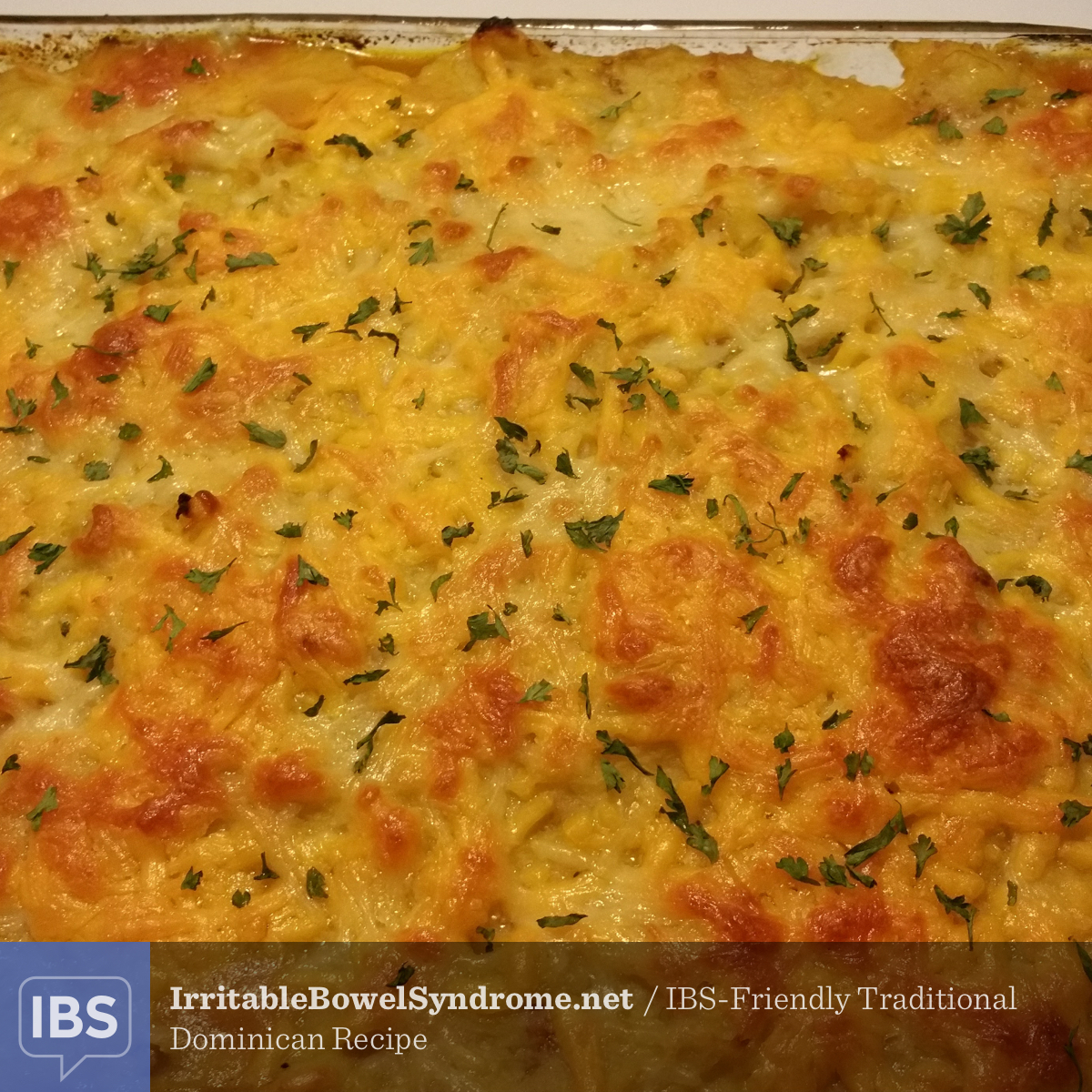 This is one of my favorite dishes, and although it wasn't made exactly the traditional way since I'm trying to stick to low-FODMAP ingredients, I still enjoyed the great taste. I understand for many of us IBS sufferers, garlic and onion can be a trigger food, so feel free to omit any ingredients that you feel may not work well with you. I hope you all enjoy this cultural dish if you've never tried it before, and it's a perfect side dish for the holidays!
Nutrition facts
Per Serving
calories: 1573
carbohydrates: 107g
cholesterol: 541mg
fiber: 8.2g
potassium: 1535mg
protein: 150g
saturated fat: 19.3g
sodium: 1223mg
total fat: 72.7g
Photograph by Hess Polanco. All rights reserved. Used with permission.
Disclaimer: IrritableBowelSyndrome.net does not provide any express or implied warrant toward the content or outcome of any recipe.

Community Poll
Do you have trouble trying to balance your diet with multiple illnesses?