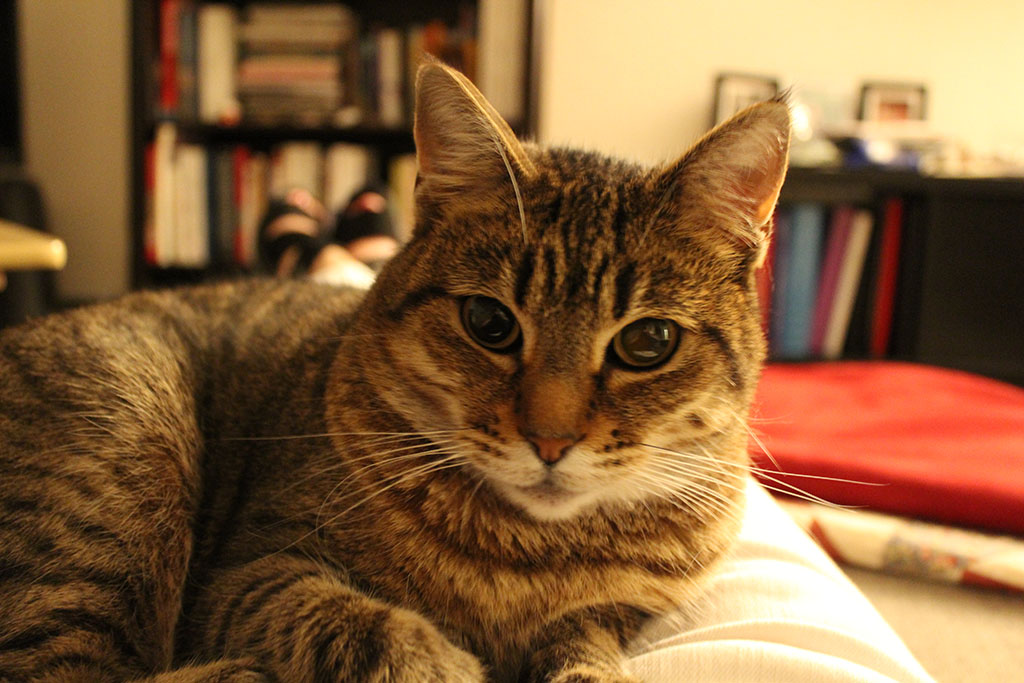 With February 20th being Love Your Pet Day, I am feeling especially grateful for my sweet cat Elsie. I adopted Elsie from the Humane Society last March, and I feel very lucky that we picked each other. She is a gray-brown tabby with golden eyes and the sweetest disposition.
Elsie
Elsie is about three years old, and from what I learned from the Humane Society, she had a rough start. She was in a cat-hoarding situation and was one of 40 cats rescued from the residence. When I first got her, she was very skittish. She warmed up to me quickly but was very wary of visitors. She was also extremely aggressive around food – even mine! I'm sure that being one of 40 cats in a household, she had to fight for every morsel. Over time, she has come to trust that she will always have food here, and she lets me eat mine in peace. She has also warmed up to friends and visitors, too.
It's become part of our routine that when I sit on the couch, she comes and sits on my lap. Oftentimes, she will knead my lower stomach, and I tell her thank you for helping my digestion. I like to think that her methodical, loving touch is helping calm my intestines that are so often inflamed with IBS. Then she'll curl up on my lap and purr contentedly.
Therapy cat
One day, when I was feeling extremely frustrated and angry, I sat down on the couch to watch a little television. Elsie came and sat on my lap as usual, and I noticed just a few minutes later that my body and breathing had relaxed as I had matched her calming energy. I know that scientists have done experiments tracking people's heart rates and noting that two people's heart rates will synchronize with each other within minutes. While I don't have scientific data to prove it, it felt like my Elsie had done that to me, and I joked to my friends that she is a therapy cat. As anyone with IBS knows, stress and emotions can trigger a flare in IBS symptoms. Elsie definitely helps me reduce my stress and gives me lots of love and affection that is always healing.
Sleep is also important to health, and my body has always needed plenty of it. While some cats are nocturnal, Elsie seems to enjoy sleeping at night right along with me: she snuggles up between my arm and my torso, putting her head on my shoulder. She'll stay there most of the night and seems to enjoy morning snuggles as much as I do.
After my cat of 19 years died and after a short unsuccessful stint with a new cat, I was "in between cats" for a couple years. I missed having a furry companion, and I am so glad that Elsie is in my life now. She is definitely very healing for me, in many ways, and her sweet presence makes my life so much richer.
This article represents the opinions, thoughts, and experiences of the author; none of this content has been paid for by any advertiser. The IrritableBowelSyndrome.net team does not recommend or endorse any products or treatments discussed herein. Learn more about how we maintain editorial integrity
here
.

Community Poll
Do you have trouble trying to balance your diet with multiple illnesses?