How Eating in Europe Helped My IBS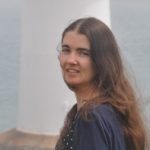 By Laura Kiesel

·

February 11, 2019
When I was 25, I went overseas to spend a month in Europe, where my boyfriend at the time was living. Over the course of four weeks, we traveled across six countries — mostly by train — and spent our evenings in cheap hostels.
In the lead up to the trip, I fretted about how my IBS would fare while on the road. After, traveling and IBS often don't go well together. I packed travel-friendly probiotics and had somewhat of a plan in place for certain staples I could eat at restaurants (plain white-flour pasta with just olive oil and some parsley and thyme; vegetable soups with white rice) that would be relatively safe. But I knew IBS can easily flare under stressful circumstances, even when trying to be careful with one's diet.
Not one flare
But here's the thing: in the entire month I was in Europe I didn't once have an IBS flare. In fact, I felt healthier than I had in years. My diet was relatively simple: bread and cheese for breakfast, with maybe some low-fat yogurt and a hard-boiled egg. For lunch, I usually had a sandwich or veggie crepe or a salad with some fresh baguette on the side. Dinners were the most versatile and ranged from pasta and rice dishes to pizza. I drank beer and coffee almost daily.
When I returned home at the end of the month, I immediately became very sick to my stomach on the first meal I ate in the U.S.
I wondered why this could be. Part of it might have simply been my state of mind: I was on vacation, mostly focused on enjoying myself, and I was in a lovely landscape and spending time with someone I was in love with. I was thousands of miles away (literally) from all of my usual stressors–including work and school and irritating roommates.
Only part of the puzzle
However, I think that was only one part of the puzzle. The other was the food itself. Even though I did eat things that I also eat in the U.S., the quality of the food was different in Europe. Every day, my then-boyfriend would rise early and go to a local bakery and buy bread fresh from the oven, made with three simple ingredients. The bread would go bad if we didn't eat it all in a couple of days.
As I went continued my schooling, concentrating on agriculture and the environmental inputs and public outputs of our food system, I became more aware of the differences between how food is made, packaged and sold in the U.S. as compared to Europe.
Incorporating the European diet
On the whole, Europe doesn't use many of the fillers, preservatives and artificial dyes and chemicals in their foods that Americans do. Certain things like rbGH, which is a hormone frequently found in dairy products here in the States, are banned altogether in the EU, as are many kind of pesticides that are frequently used here on our domestic crops. Furthermore, food tends to be fresher and less processed in the EU — there wasn't a slew of microwave dinners as there are here.
For someone with a less sensitive system and without a chronic illness, perhaps they would not notice the difference in the quality of the food or be as (or at all) impacted. However, I have spoken to several people who do not have my health problems, who have also traveled to the EU and made similar observations about the difference in the food. Whatever the case, with my system, it seems such things can make a difference.
This is why ever since returning to the States all those years ago, I have tried, with varying levels of success, to incorporate certain things from my European diet into my American one. This includes eating minimally processed or fresh/whole foods, trying to buy organic when I can and when it's affordable to me, and trying to buy fresh baked bread from my local bakery. It definitely has made a difference, as I've gotten better at it over the years and advances in food labeling have helped. But it still can be a chore, especially when it comes to eating out. Hopefully, one day our laws will catch up and it will not take so much effort and guesswork for me to find purer foods.
This article represents the opinions, thoughts, and experiences of the author; none of this content has been paid for by any advertiser. The IrritableBowelSyndrome.net team does not recommend or endorse any products or treatments discussed herein. Learn more about how we maintain editorial integrity here.