Low FODMAP Prosciutto-Wrapped Scallops
I don't know about you guys, but I really like seafood, especially in sushi. I'd have two spider rolls for lunch any day! And if I really want to get fancy with it, pan-seared scallops always does the trick and has such depth of flavor. The great thing about scallops is that you really don't need much seasoning and you can always make it low FODMAP friendly. One of my favorite ways to make scallops is by wrapping bacon around it, and I figured why not share my favorite recipe with you guys.
Then I decided to try something different with the scallops for once, and if I like it, then I would share it. So instead of using bacon, I thought of making "prosciutto-wrapped scallops", which I then later learned was not a new recipe, but I still would like to share my version of it. What's unique about my version is that it has my little special touch of love that makes it taste so much better. I hope you enjoy!
Ingredients for prosciutto-wrapped scallops
14 big scallops
7 slices of prosciutto cut in half
Tooth picks soaked in water
1 tbsp of dairy-free butter
1 tbsp of vegetable oil
Salt, cayenne pepper, pepper, and lemon pepper to taste
Pesto Aioli
(Optional - not Low FODMAP friendly)
½ cup of light mayonnaise
¼ cup of pesto
1 tsp of lemon juice
Salt and pepper to taste
Directions for prosciutto-wrapped scallops
To activate your "touch of love," put on music that will add movement to your feet, a wiggle to your hips, and a smile to your heart. This is very important, so do not skip this step. (Bob Marley usually does it for me.)
Now, clean and pat your scallops dry.
Cut the prosciutto into short enough pieces so that they wrap around each scallop once. Wrap each scallop with prosciutto and use the toothpicks to hold together.
At this point, you should be moving your hips to the beat and singing along to the music baby! Singing: "Because every little thing is gonna be alright!"
Ok, so as you're moving your hips and dancing to the beat, start seasoning the scallops to taste. It's almost important to look at this step as if you were actually dancing with the scallops. The reason for this is because, as you do this, you're passing off positive energy into your cooking, thus giving it the "TLC" effect, or the tender loving care effect.
Now heat your skillet on high and add the oil. Once you see the oil smoking, add the butter and turn the heat down to medium-high heat and place some of your scallops in the pan and let them sear for about 2 minutes on each side. Make sure not to crowd the pan, have at least 2 inches between each scallop.

Ok, within these 2-minute intervals you have to do your favorite dance move and follow it up with a spin, quick!
As soon as the scallops are done, place them on a plate with a napkin to soak any oil. Repeat the process until all scallops are cooked.
Next, place all of your pesto aioli ingredients in a bowl and mix together until well combined.
You better keep that music on and keep on grooving as you're doing this! If you stop now, the TLC effect will not work properly, so keep moving baby!
Drizzle the pesto aioli on top of the scallops.
Optional: Feel free to add the scallops on top of a bed of salad of your choosing.
Congratulations, you have officially given this dish your "touch of love"!
Enjoy!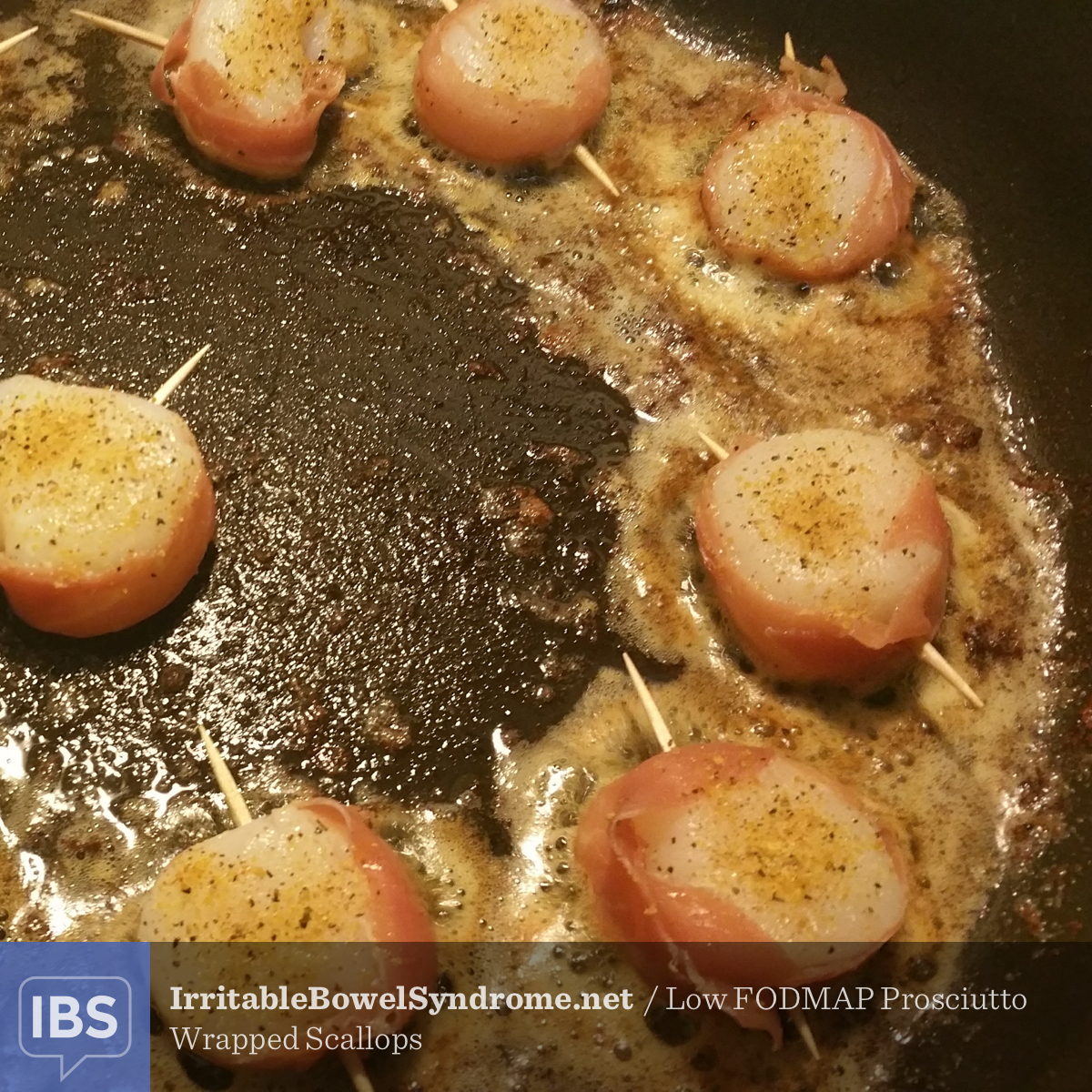 Disclaimer: The pesto aioli was something extra I wanted to add, and it is not necessary to make this dish spectacular. It is also not low FODMAP friendly, so feel free to omit this part of the recipe or any other ingredients that may be a trigger.
Nutrition facts
Per Serving
calories: 355
carbohydrates: 10.8g
fat: 24.2g
fiber: 0.3g
potassium: 393mg
protein: 23.1g
saturated fat: 4.5g
sodium: 750mg
Photograph and video by Hess Polanco. All rights reserved. Used with permission.
Disclaimer: IrritableBowelSyndrome.net does not provide any express or implied warrant toward the content or outcome of any recipe.

Community Poll
Which of the following symptoms of IBS do you experience most frequently?