Low FODMAP Crockpot Steak & Peppers
Last updated: February 2022
I have come across many low FODMAP recipes over the past few years and one of the most important aspects for me is finding a recipe that requires minimal work. Don't get me wrong, I certainly don't mind putting in the effort to cook, especially when it's for a lot of people. However, on the days when my symptoms are at its worst I rather take it easy as much as possible. The great thing about this recipe is that it involves very little effort, and it tastes great!
Here is my own rendition of slow-cooked steak and peppers. For sides, I have made jasmine rice and sautéed asparagus. However, feel free to create your own sides. Enjoy!
Serves: 4
Cook time: 4 hours
Prep time: 15 minutes
Ingredients for low FODMAP crockpot steak and peppers:
2 lbs of beef sirloin strips
3 tbsp. of coconut oil
½ cup of beef stock
1 tbsp. of coconut flour
2 large bell peppers (1 red and 1 green) chopped
1 (28 oz.) can of San Marzano stewed tomatoes
2 tbsp. of soy sauce
1 tbsp. of Worcestershire sauce
1 tsp of white sugar
2 tsp of salt (or to taste)
2 tsp of black pepper (or to taste)
2 tsp of chili powder
1 tsp of turmeric powder
2 tsp of oregano
1 bay leaf
Tips for low FODMAP crockpot steak and peppers:
Be sure to cut the sirloin into 2 in. pieces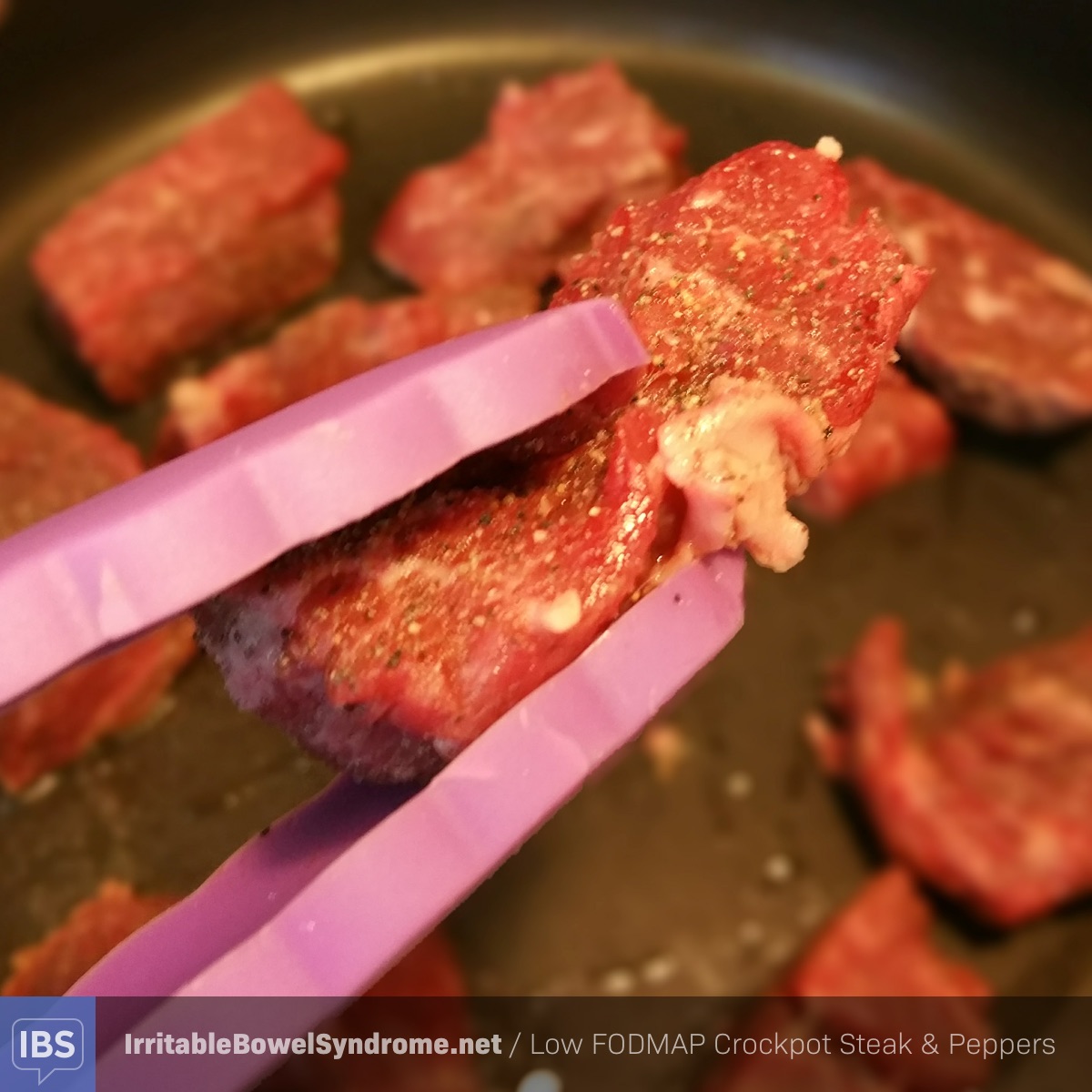 2. Don't forget to preseason the meat with a little salt and pepper before browning.
3. Cut the green and red bell peppers into long strips.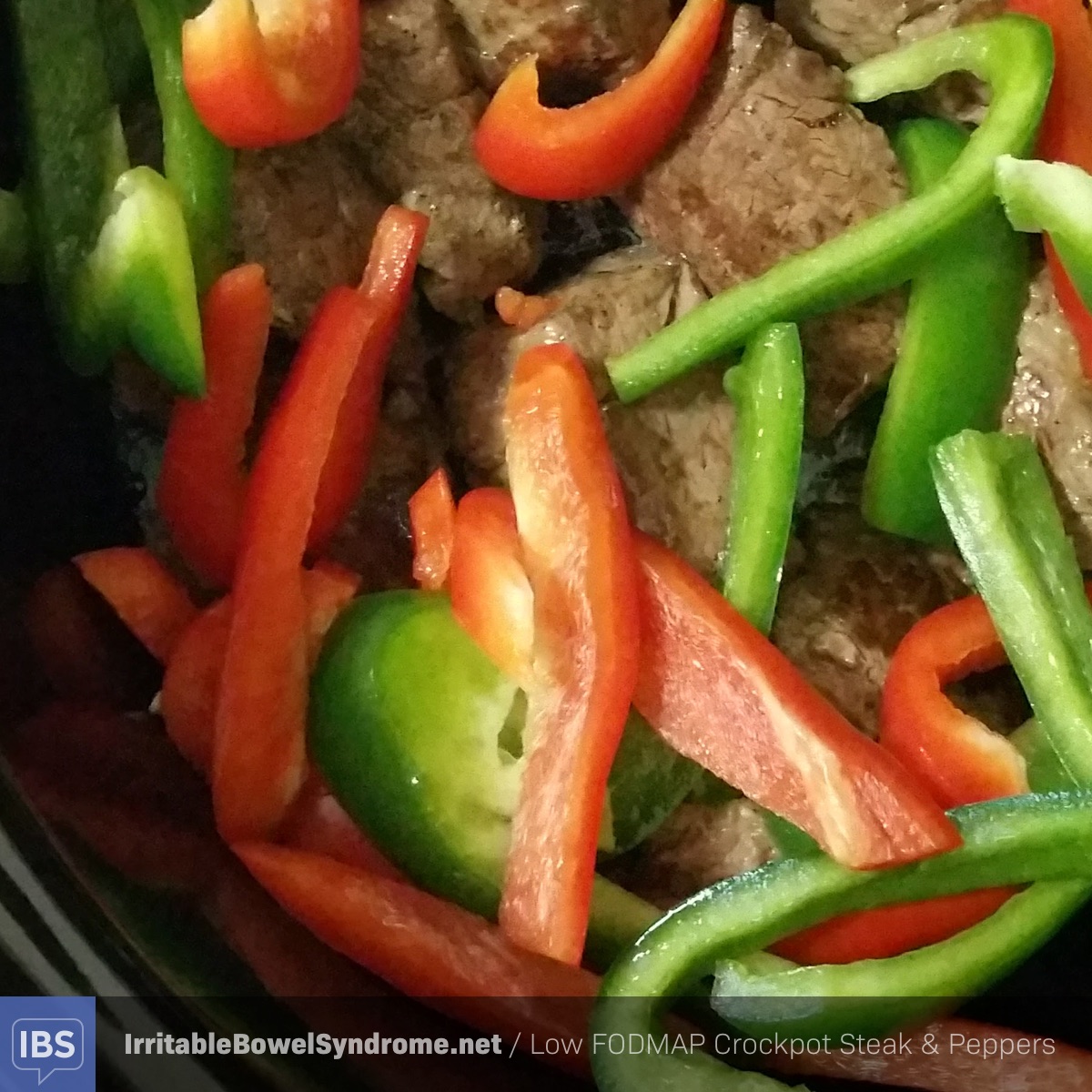 4. Add all of the ingredients into the crock pot.
5. What it looks like before it is done.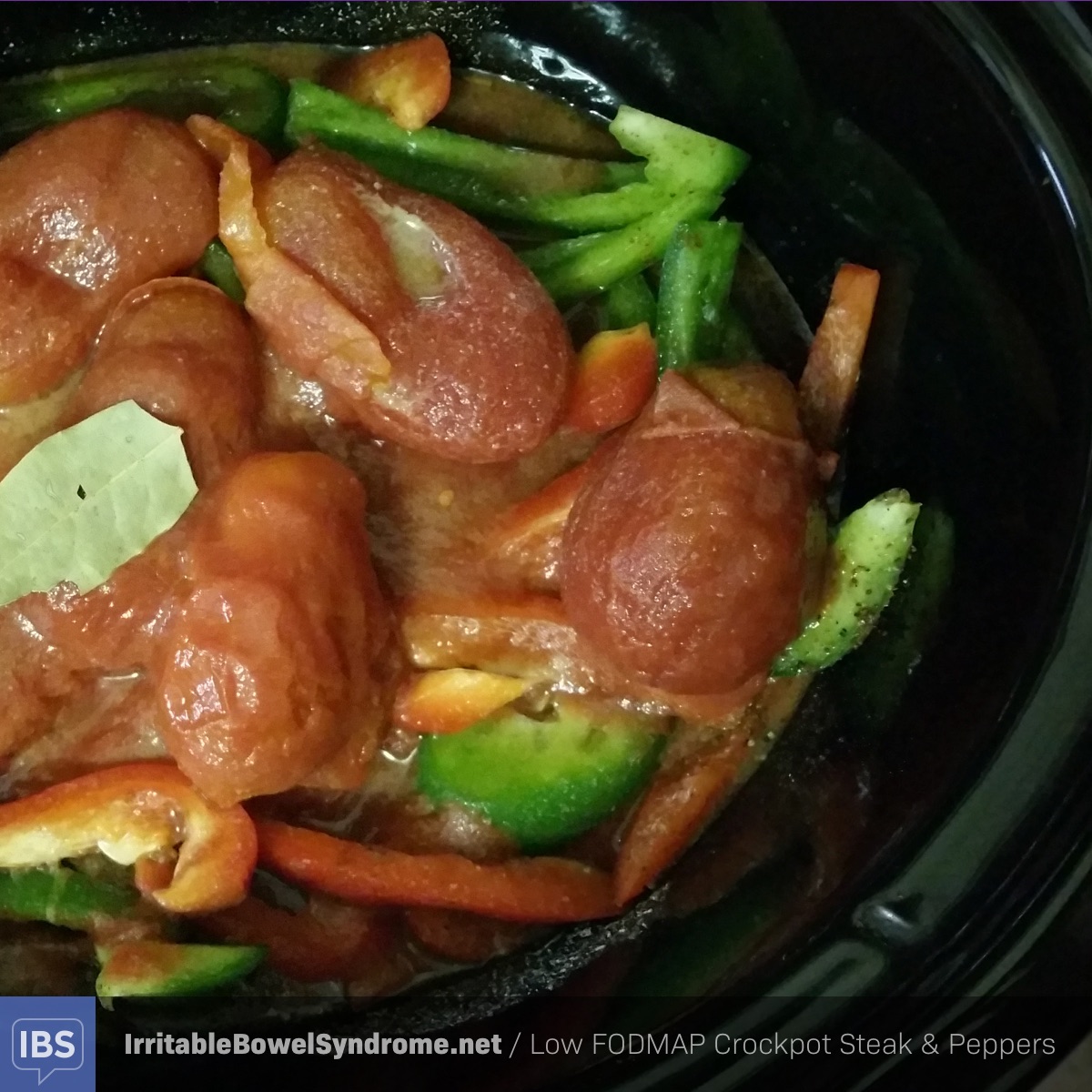 6. What it looks like after 4 hours of cooking.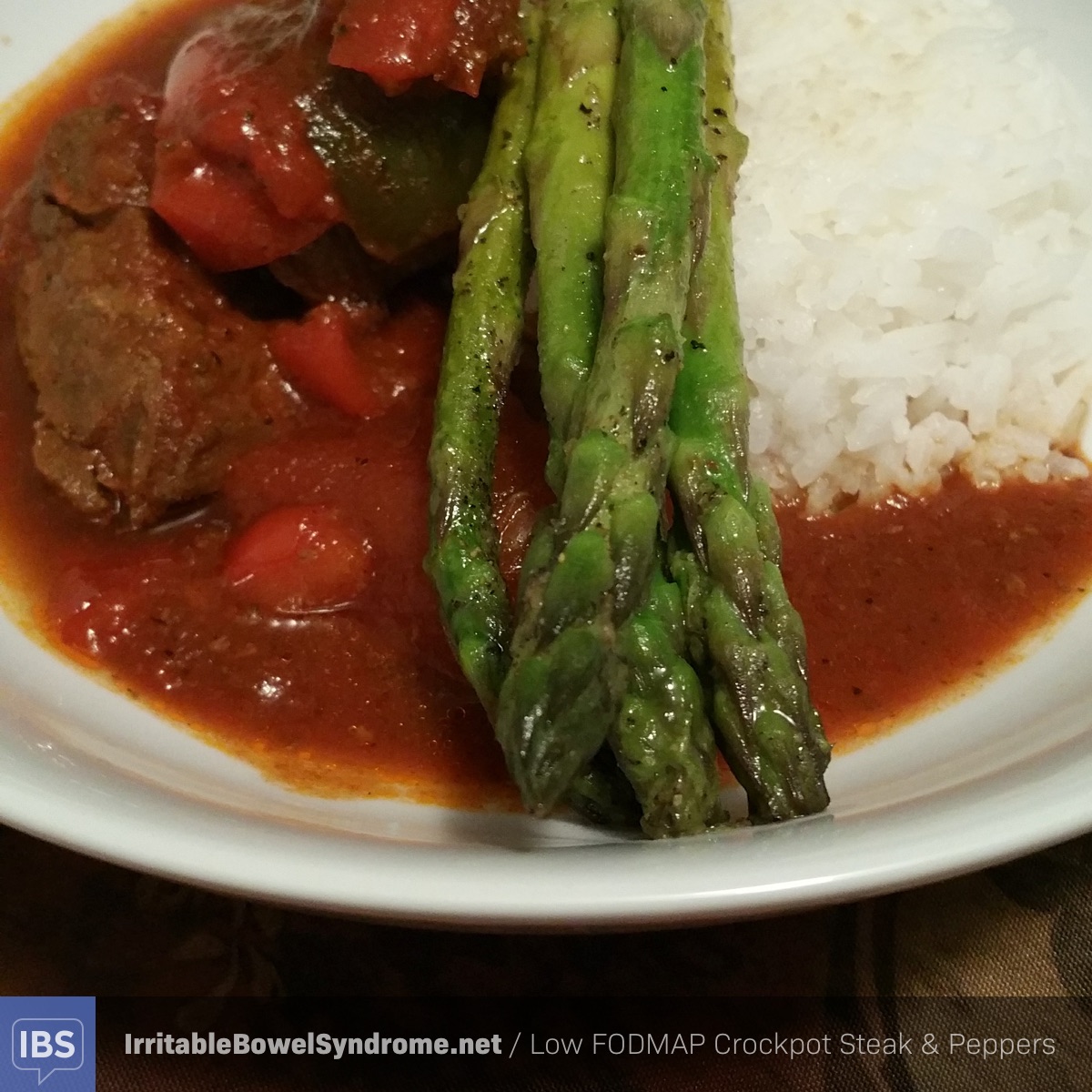 7. Enjoy!
Directions for low FODMAP crockpot steak and peppers:
Heat coconut oil in a large skillet over medium heat and brown meat on all sides, but do not fully cook. Once done, transfer the meat to the crock pot.
Mix together the coconut flour and the beef stock, then pour in the crock pot.
Stir in the rest of the ingredients, then cover and cook on high for 3 ½ -4 hours.
(Optional) Once it is done, then serve over a bed of rice or mashed sweet potatoes alongside some veggies.
Enjoy!
Nutrition facts
Per Serving
calories: 633
cholesterol: 203mg
dietary fiber: 6.4g
potassium: 1486mg
protein: 72.6g
saturated fat: 14.4g
sodium: 2474mg
total carbohydrates: 26.3g
total fat: 25g
Photograph by Hess Polanco. All rights reserved. Used with permission.
Disclaimer: IrritableBowelSyndrome.net does not provide any express or implied warrant toward the content or outcome of any recipe.

Community Poll
Which of the following symptoms of IBS do you experience most frequently?