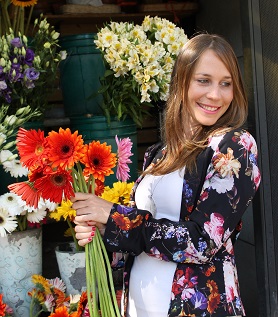 Caitlin was previously an advocate on IrritableBowelSyndrome.net.
Caitlin is a qualified Naturopath with a passion for helping people who are suffering from IBS reduce symptoms, find the cause and reduce their pain so they spend less time in the bathroom and more time living their life to the fullest.
After years of living with Irritable Bowel Syndrome (IBS) and going through the conventional medical system with little success, Caitlin started investigating natural medicine to help herself. She studied holistic nutrition, herbal medicine, Australian Bush and Bach Flower essences, yoga and meditation. During her time at university she found that she loved the holistic nature of naturopathy, combining the science of biology, chemistry and nutrition with traditional and alternative medicine to get the best of both worlds. She found that she wanted to use it not only to help herself and her family, but the wider community as well.
Caitlin is highly intuitive and looks for the root cause of the problem and the interconnectedness of the condition with emotional, mental and spiritual aspects. She not only treats the condition but educates clients on what is occurring in their bodies so they are empowered to help themselves.
While IBS and digestive issues are her specialty and The IBS Lady is her alter ego, she also works with people suffering from a wide range of conditions that require a more in-depth and personalised approach.
Originally from Australia, where she completed her Bachelor of Health Science (Naturopathy), she currently lives in Chile and consults in Spanish as well as English via Skype.
You can find more information and book a consultation at www.caitlinwheat.com.
Click here to read all of Caitlin's articles on IrritableBowelSyndrome.net.