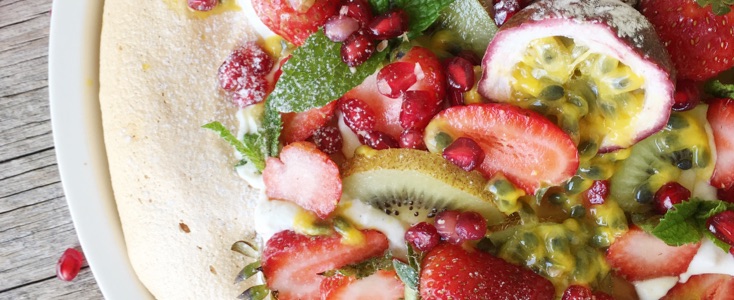 Holiday Gluten & Dairy-Free Dessert – Pavlova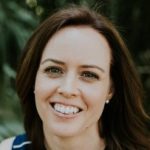 By Hannah Noonan

·

December 21, 2016
In Australia this classic celebration dessert can be found served at special occasions including Christmas, and everyone has their favorite recipe and preferred toppings and texture.
It has a delicate crispy crust on the outside, and a soft (or chewy) marshmallow center. It will crack and get rather messy when you serve it, but that's all part of the fun!
The meringue can be shaped however you like it, traditionally it is one large round cake shape, but you can make mini single serves, a log shape and at Christmas time you can even shape the meringue into a wreath style.
The cream component is traditionally a whipped dairy cream and if you can tolerate dairy then feel free to use this instead. You could also use a pre-made dairy free whipped cream if available.
All the ingredients are low FODMAP friendly but the serving size will depend on how you can tolerate sugar, coconut milk and the fruit, so perhaps start with a half serving size if you are unsure how the ingredients will affect you.
Serves 8
Preparation time – 10 minutes
Cooking time – 80 minutes plus cooling time
Ingredients
Base
4 egg whites
1 cup caster/superfine sugar
2 tsp cornflour
1 tsp white vinegar
1/4 tsp vanilla extract
Whipped coconut cream
1 can coconut milk, refrigerated overnight
1/4 cup maple syrup
1 tsp vanilla extract
Fruit topping
The fruit topping can be any fruit you love and can tolerate (simple low FODMAP options include strawberries, raspberries, blueberries, passionfruit, pomegranate and kiwi fruit)
1 tsp icing-sugar and fresh mint leaves to decorate
Directions
Base
Pre-heat an oven to 110°C/230°F
Line a baking tray with baking paper
Combine the cornflour, white vinegar and vanilla extract in a small cup and set aside
Whisk the egg whites with an electric beater until soft peaks form
While the beater is running, gradually add the sugar and beat until the meringue is glossy
Then pour in the cornflour mixture and mix until combined
Pour and spoon the meringue onto the baking tray and spread out to a large circle (about the size of a dinner plate)
Place the tray into the oven and cook for 80 mins
Once complete, turn off the oven and leave the pavlova in the oven with the door closed to cool
Whipped coconut cream
Remove the can of coconut milk from the fridge and separate the cream from the liquid (discard the liquid)
Place the coconut cream, maple syrup and vanilla extract into a bowl and use an electric beater to whip the coconut cream (about 5 mins)
Then place the bowl into the fridge to chill
Assembly
Once the base is cool and the cream chilled, place the base on a large serving plate
Top with the whipped coconut cream and then add the fruit and mint leaves
Sift a little of the icing sugar over the pavlova and serve
Disclaimer: